You are not familiar with the history of the internet if you don't know about yahoo. Yahoo is a very popular company that has its own search engine, mail services, web services, and many more services for developers and online marketers. Yahoo Small business falls under yahoo services, which provides web hosting, e-commerce developers, domain services, custom webmail, website builder, etc. Yahoo Small Business is also known as Aabaco Small Business services. Its main goal is to help users and customers to make their business, trading, and organization online.
Yahoo Small Business is behind in competition on web services in comparison with its competitors like WordPress, Blogger, Wix, Bitrix24, EngagaBay, etc. The graph is shown below clearly shows that yahoo small business does not have crazes like WordPress and Blogger. Blogger is the web hosting service provided by another popular company Google. The red line in the graph whose the trending of WordPress on the internet ad the blue line which is difficult to recognize in the graph is Yahoo Small Business trending on the internet. Users are looking for a web service that is easy to handle and shows instant results in their business.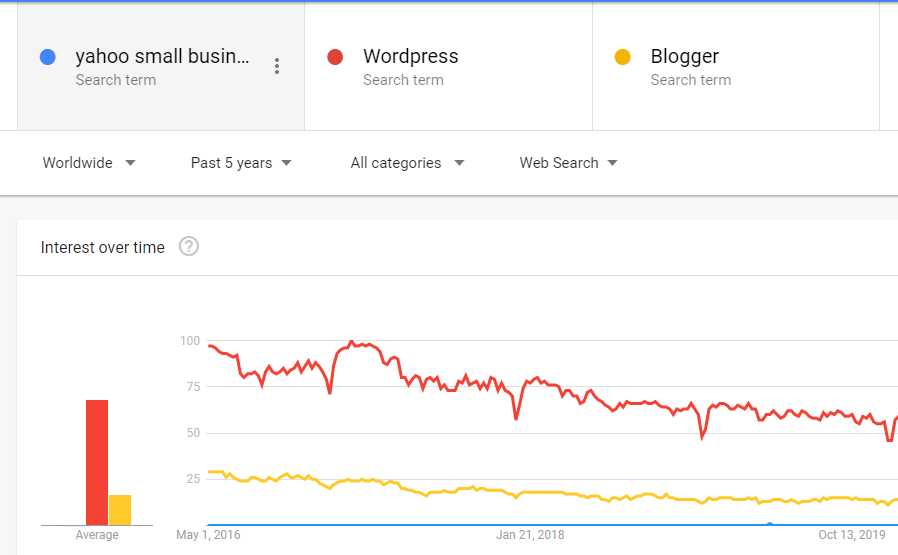 WordPress Provides very responsive, easy to manipulate, fast loading, advanced SEO-based web and apps services. While blogger is a simple blogging platform where publishers and creators publish their blogs. Yahoo small businesses, WordPress, and blogger all provide free domain and hosting plans to start a business. Yahoo tried to attract publishers and creators by providing free domain, mail, and web hosting services for one year. That offer remains for some weeks and Yahoo Small Business comes on trending due to the free and hosting offer. In this offer, publishers can purchase any top-level domain for free like .com. , .net, .org, etc.
Read this : Cheap Cloud Storage 2023
But it is found that the publisher moves to another platform with that domain and has not used their web hosting and site builder. The main reason for moving to WordPress and blogger is these platforms are very easy to understand. Any new user can easily adapt him/herself easily with these web platforms. But it becomes very difficult for any beginners to maintain their websites and business longer on yahoo small business. Another reason behind this shit is that yahoo small businesses providing website builders free only for one year and after one year publishers have to pay a huge amount for the website builders.