This is a brief introduction to BCA Pokhara University. At Pokhara University BCA comes in faculty of Science and Technology. Pokhara University BCA Course takes 4 Years to complete. Each year divided into semesters. There are 2 semesters in 1 year and the whole course becomes 8 semesters.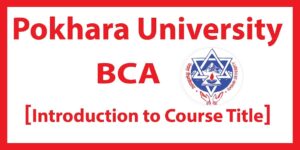 An introduction to the Bachelor of Computer Application (BCA) Program
Title
The title of the program is Bachelor of Computer Application (BCA) under the Science and Technology Faculty
Objectives: The objectives of the program shall be to provide a sound academic base from which an advanced career in computer applications and related fields can be developed. Conceptual grounding in computer usage, as well as its practical scientific business applications, will be provided.  
The duration of the B.C.A. degree program shall be four years divided into eight semesters.  
Related: BCA 7th Semester Syllabus
Course Structure
The program follows the credit system. Each course is assigned a certain number of credits depending generally upon its lecture, tutorial, and practical work hours in a week. In theory subjects, one lecture per week is assigned one credit as a general rule. The BCA course comprises a total of 126 credit hours spreading over eight semesters with the following distinct components:
Analytical Tools: Five courses (15 credit hours in analytical areas to provide a student with a strong foundation required for the program.
Support Areas: Six courses (18 credit understanding of a business environment with communicative skill development.)
Hardware Areas: Four courses (12 credit hours) in computer hardware to provide a student with an opportunity to gain real-life practical experiences in computer hardware. This will also help the student in programming in a better concept with internal activities.  
Core Areas: Twenty courses (62 credit hours) to help a student broaden the understanding of various facets of computer application in real life.
Project Work: Four projects (10 credit hours) help the student deal with the real-life problem of computer applications for their sound practical exposure.  
Internship: This internship (3 credit hours) course is most useful to help a student to deal with real-time system development.
Elective Area: There are two elective courses (6 credit hours) that are most applicable to the students who are interested to be specialized in their interest fields. Two additional electives are also available.
Read More Posts